Modern Data Centers have evolved into a Hybrid Cloud that host your entire compute infrastructure.
The management of facilities, technology assets, network, and the workloads has become overwhelming for you to do on your own.  Add that your Hybrid Infrastructure consists of Data Centers, Colocation Providers, Edge sites, and Public Clouds your job becomes pretty scary.   Increasing automation is critical to ensure your organization is fully using and optimizing its compute investment.
Taming the Hybrid Cloud Infrastructure
Users bypass Change Management controls

Network connections are not automatically documented and fully up-to-date

There is uncertainty regarding capacity for new installs

Adherence to workorder workflow is random and or incomplete

Multiple technology platforms (besides Linux) are introduced to the Data Center

Audits require time consuming and error prone human involvement
Automating for a Continuously Aware Hybrid Cloud
Asset reconciliation, Find it, Update it, Create it
Field level data population and validation
One-click for more detailed information
Chassis slot availability for blades/module placement
Network cards to asset creation, used to create the end points for DCIM network connection traces
Identify security risks – assets that have been added or removed from the datacenter network outside of change control
Near real-time event-driven updates
Reduce effort for Initial DCIM asset population and ongoing management

Benefiting from Nlyte Data Center Automation
Eliminate manual overhead of keeping complex critical information up to date increasing resource availability and efficiency
Enhance the reconciliation framework with richer and more accurate data to eliminate security threats, identify out of sync processes, and remove ghost/zombie equipment
Near real time understand of actual network ports and locations used against available ports provides accurate capacity planning and improved resource utilization
Assessing planned and unplanned outages and the business impact planning for workload asset management
Improved SLAs and Support responsiveness by reducing mean time to repair (MTTR) and root cause analysis (RCA) metrics
Accelerate the initial implementation or expansion of DCIM with auto-discovery and auto-loading of asset data
Data Center Automation Key Use Cases
Network Automation Challenge – Hybrid & High-scale
Nlyte Network Automation Business Advantages
Continuously Aware Hybrid Cloud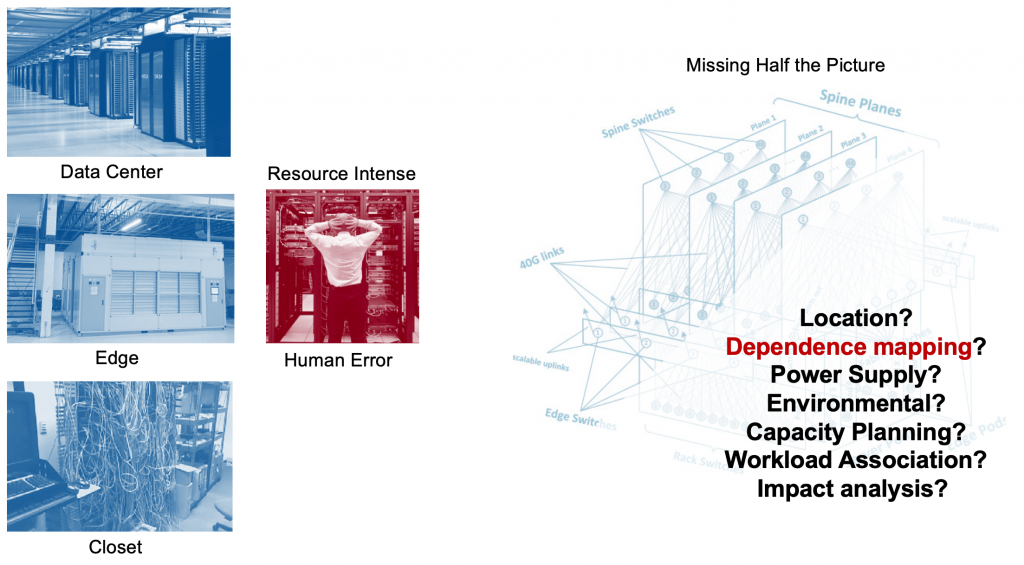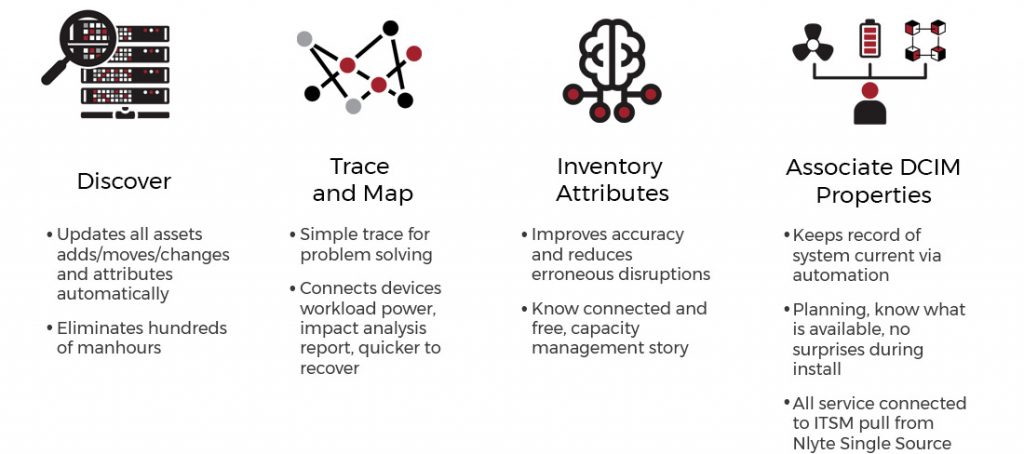 Automated discovery, creation, and mapping of network ports – server to switch
Automated discovery of all IP based facilities, compute, and IoT assets
Parent-child relationship mapping – chassis, server, blades, switches, module, and VM's
Asset reconciliation, find assets, update their current attributes, and create new assets in BMS, DCIM, CMDB, and ITSM asset databases
Map current network port to asset port relationships
Near real-time event updates helps identify security risks and improve Service Desk work order SLA's
Plug and play for real-time power monitoring, power strips, and sensors
Near real time understand of actual network ports used against available network ports

Capacity management and budget planning

Insight into network modules locations and network chases slot usage

How many network modules/ ports are we using and when do we need more?

Business impact planning for power outages, Planned or Unplanned

If we loses this network assets power, we then risk these connected assets running workloads $$$

The overhead of keeping complex critical information UpToDate

Increase resource availability across DCIM users / Teams
How Asset Explorer for Nlyte DCIM Works
Discover and inventory

Servers, including network cards
Software (OS, Applications)
Asset location and activation
Network devices

Provides near real-time transactional updates from Nlyte Discovery and Inventory application into Nlyte DCIM
Automates, maps, and maintains network port connections and usage
Supports all major and proprietary protocols
Set it and forget it!
Agentless, lightweight, and low impact on the network (< 0.1% of a 10baseT)


Trusted Source of Truth
You can't manage and protect what you don't know you have. Nlyte Asset Explorer is a comprehensive enterprise software solution that automatically collects detailed information about every device connected to the network. The solution includes all the tools and technology to visualize the results of the discovered inventory of hardware, its configuration attributes, services/processes, and application.
Asset Explorer is an agentless automated discovery of hardware and software solution including data center, facility, desktops, and IoT devices. It provides a detailed Inventory of all asset attributes and reconciliation across IT and business systems. Asset Explorer is lightweight and low impact on the network (less than 0.1% of a 10baseT).