What is Data Center Sustainability?
What is Data Center Sustainability? What does it mean to be Green?
Whether you call it a Green Data Center or a Sustainable Data Center, the facility's focus is to improve the reduction of its demand on the environment continually.  While there are many things an organization can do to improve its environmental greenness, the three big targets focus on the following:
#1 – reducing electrical power generation from fossil fuels.  Data centers are attributed to consuming 3% of the global power consumption per year which contribute to 2% for the planets CO2  emissions.
#2 – water conservation.  In the US alone 660 billion liters of water were consumed in 2020 to cool cabinets, buildings, and generate power.
#3 – waste management.*9 2% of all trash generated in the US comes from e-waste which represents 70% of the toxic waste.
Terms like NetZero and Carbon Neutral are frequently used interchangeably.  NetZero is about achieving a balance between the greenhouse gases put into the atmosphere and those taken out.  Although zero emissions and zero carbon are slightly different, as they both mean no emissions were produced in the first place, Carbon Neutral is about offsetting carbon emissions with a balancing factor, such as planting trees.
What metrics are used in Data Center Sustainability?
*11 Of the seven main areas that a data center is measured on Energy Efficiency, Cooling, Greenness, Performance, Thermal and Air management, Network, Storage, Security, and Financial Impact, there are over 130 discrete, measurable aspects.  The below are the most common and provide the best sustainability insight, without a team of engineers and accountants, although AI will be useful.
Data Center Infrastructure Efficiency (DCiE)
Power Usage Effectiveness (PUE)
Carbon Usage Effectiveness (CUE)
Water Usage Effectiveness (WUE)
Electronics Disposal Efficiency (EDE)
Geek-out stuff
What are Energy Efficiency Metrics?
Energy efficiency is defined as the ratio of useful work done by a system to the total energy delivered to the system. For data centers, energy efficiency translates into the valuable work performed by different subsystems. The most popular energy efficiency metric, PUE, is used by many other metrics either directly or as a derivation. For example, Server Power Usage Efficiency (SPUE) and pPUE metrics are based on the same principles as the PUE metric.
The Data Center Performance Per Energy (DPPE) metric is also noteworthy as the metric is a combination of four other metrics: DCiE, Green Energy Coefficient (GEC), IT Equipment Energy (ITEE), and IT Equipment Utilization (ITEU). To calculate the ITEU, one needs to know the exact power used by fans, voltage regulators, and other IT equipment components. It isn't always clear how to measure the total energy that goes into IT equipment accurately. Defining coefficients for different IT equipment types is also challenging, especially in co-location data centers' heterogeneous environments. To accurately calculate the Operating System Workload Efficiency (OSWE) metric, the number of operating systems needs to be known, including virtual machines' operating systems. We can conclude that some of these metrics require accurate and very hardware-specific data in conjunction with next-generation DCIM software to be useful.
Why is data center sustainability important?
The obvious answer is, it is good to protect the environment.  More to the point, putting a lot more focus on the data center is essential because it has been ignored for too long. Data Centers are responsible for consuming 3% of the global energy, with data centers in the U.S. alone will consume approximately 73 thousand megawatts in 2020.   *1Data Center Dynamics models predict that data center energy usage could surpass more than 10% of the global electricity supply by 2030.  While individual governments have moved to regulate the industry, there is a growing trend in Corporate Governance circles where organizations and their shareholders are holding facility operators responsible for improving their *7 Environmental Social Governance (ESG).
8* Water consumption
Several components make up the environmental footprint of a data center.  Power consumption a big one, but it is not the only one. Water is also a factor.  In FY18, Google used 15.79 billion liters of water, and Microsoft used 3.5 billion liters, with the majority going to data centers.  This consumption is significant because water availability is a concern in the context of climate change. Global water use has increased by 6x over the past 100 years and continues to grow by 1% every year.
*3 CO2 Emissions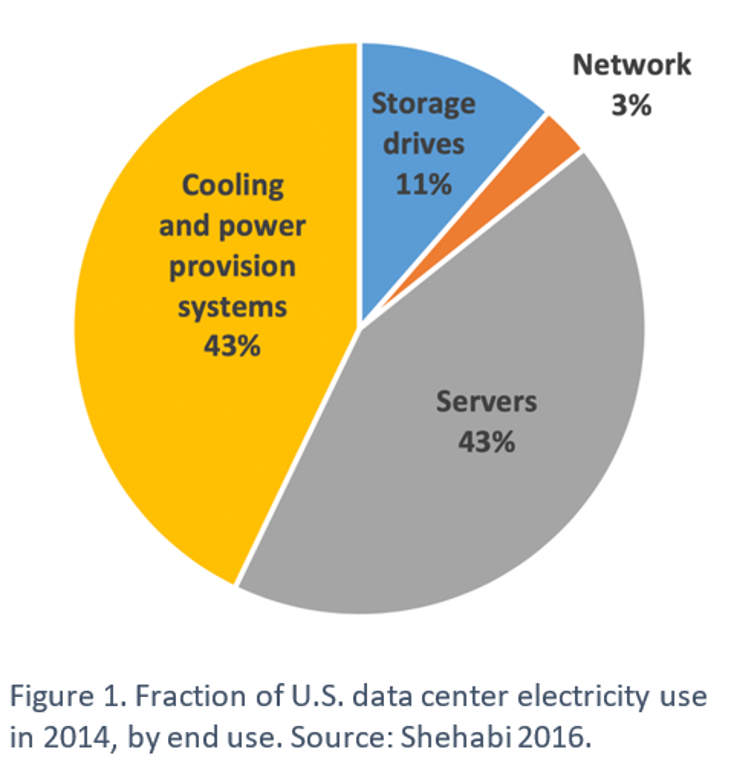 On average, servers and cooling systems account for the most significant shares of direct electricity use in data centers, followed by storage drives and network devices (Figure 1). According to the US Department of Energy, some of the world's largest data centers can each contain many tens of thousands of IT devices and require more than 100 megawatts of power capacity, which according to the US Department of Energy, is enough to power around 80,000 US households. As this relates to CO2 emissions, according to the Air Transportation Act Group claims that the world's data centers in 2020 emitted as much CO2 as the global aviation industry, roughly 900 billion kilograms of CO2.
*10 E-waste
Data centers are responsible for 2% of trash and 70% of overall toxic waste in the US. In 2019, the number of companies recycling decommissioned hardware dropped:
Organizations working with a certified recycling company dropped by 14% from 2018 to 2019, and the number of companies recycling the hardware dropped by 5%
Nearly 10% of the largest organizations data centers are still throwing decommissioned equipment away
9% of the largest organizations reported disposing of the hardware without relying on any kind of recycling
*4 Greenwashing
In 2021 83% of organizations have a sustainability pledge in place, and half of the organizations state that they plan to only do business with partners who share their environmental goals. Yet, in a February 2020 survey, 25% of respondents said they could not meet their sustainability goals. While many are just "greenwashing" their performance. – IDC The Tipping Point for Sustainability Progress March 2020. Many organizations are barely in nascent stages of progress. With digital transformation and edge computing initiatives at the forefront of their agendas, these organization's sustainability progress will be further delayed. Being green has been challenging in a mission-critical business environment as data center managers are more concerned with ensuring resilient operations than saving money on the utility bill.
This same IDC survey also found that almost 9 out of 10 data centers are not designed for optimal power efficiency, which, as a result, can cost a data center more than $1.4 million every year in wasted electricity, based on national averages.
Data centers' operational costs are vastly different from the other aspects of an organization's facilities management portfolio, with less than 5 % of the cost's personnel-related. Servers are responsible for 45% of the amortized costs, followed by infrastructure at 25%, and power draw and networking each at 15%.
Who is driving the sustainability movement in data centers?
Pursuing sustainable data center strategies sometimes involves a leap of faith. These initiatives can struggle to gain momentum because, like all revolutionary change, a commitment to sustainability involves short-term sacrifice for the sake of long-term benefits.
*12 Hyperscalers and colocation providers are leading the charge and, in many cases, are looking to them to set the example.  In addition to focusing on achieving the US Federal mandated Data Center Optimization Initiative (DCOI) mandate, Sandia National Laboratories are building and sharing their architectural templates for other organizations to leverage.  For many of these hyperscalers and colocation providers, PUEs have dropped down to 1.1.
A few years ago, the industry average PUE was well above 2.0, which meant that organizations spent more on keeping systems cool than they spent on powering the servers. But over the years, this PUE number has steadily dropped. The popularity of free air cooling and the increased flexibility of IT equipment to operate at higher temperatures has facilitated PUEs of as low as 1.15. *2 This drop has primarily been driven by hyper-scale operators who have taken steps towards minimizing their environmental impact.  Equipment manufacturers like Carrier improve cooling efficiency techniques in their products by introducing IDCM to bring granular data sharing between facilities data center operators.
What are the Drivers of Change for Data Center Sustainability?
To show how much "being green" has shifted our mindset, for the first-time data center operators have ranked energy efficiency equal to costs and only surpassed by reliability.
Today, hyperscalers, large enterprises, and government organizations demand that data center operators create a sustainable infrastructure to earn their business. The most sustainable data centers are being built on commitments to innovative green and renewable strategies that include green power, water reclamation, zero water cooling systems, recycling and waste management, and more. These green data centers should not contain obsolete systems such as zombie, ghost, or older inefficient technology. Instead, they need to take advantage of newer, more efficient technologies and more accurate capacity monitoring and management software like found in next-generation DCIM software. Taking cues from the hyperscalers, the most sustainable data centers recognize the need to lead with modular energy-efficient data center designs.  From the onset, they see the need to adopt the latest in building technology and influence the overall supply chain for the actual sourcing materials for these innovative new data centers.
Being a good citizen of the earth is very important to individuals and corporations alike, and attracting and retaining top talent will hinge upon an organization's commitment to sustainability goals. Also, several investment firms such as Blackrock have established ESG scoring of organizations in their portfolio.
DCIM and BMS systems have helped large data center operators use less power and improve operating costs and profitability for many years. Leveraging more modern technology, many organizations have made significant investments in renewable energy sources such as solar and wind power. Many are fine-tuning their data center environments with the help of AI and machine learning. Shifting to remote monitoring and predictive and proactive maintenance uncovers opportunities for improved resilience and more significant cost savings.  Most recently, the development of Integrated Data Center Management (linking DCIM and BMS together) is helping by making many small just-in-time adjustments in temperatures and acting in a more predictive way to save money on their utility bills.
What industry associations focus on sustainability?
Many of the below organizations have been around for several years, but is has just been in the last few that they have extended their focus on the data center facilities as well.
BCA Green Mark - https://policy.asiapacificenergy.org/sites/default/files/Case-Study_The-BCA-Green-Mark-Scheme_A-Driver-for-Energy-Efficiency-Labelling-in-Singapore.pdf
BREEAM - https://www.breeam.com
BREEAM is the world's leading sustainability assessment method for master planning projects, infrastructure and buildings. It recognizes and reflects the value in higher performing assets across the built environment lifecycle, from new construction to in-use and refurbishment.
Building Energy Innovators Council (BEIC) - https://beic.ca
The Building Energy Innovators Council (BEIC), was founded in 2016 by a diverse group of Real Estate and Corporate leaders. This is an industry driven council established to accelerate the collaboration, innovation, and adoption of clean building technologies including energy efficiency and renewable power solutions that will transform the built environment, while developing world class clean tech companies, creating jobs and enabling economic prosperity in a future low carbon era.
CEEDA - https://www.ceedacert.com
CEEDA is an energy efficiency assessment framework addressing best practices which directly impact OPEX, providing a globally applicable certification and guidance on optimizing deployment of labor and CAPEX to maximize performance.
Energy Star - https://www.energystar.gov/buildings/certified_data_centers
ENERGY STAR® is the government-backed symbol for energy efficiency, providing simple, credible, and unbiased information that consumers and businesses rely on to make well-informed decisions. Thousands of industrial, commercial, utility, state, and local organizations—including about 40% of the Fortune 500®—partner with the U.S. Environmental Protection Agency (EPA) to deliver cost-saving energy efficiency solutions that improve air quality and protect the climate. Since 1992, ENERGY STAR and its partners helped American families and businesses save more than 4 trillion kilowatt-hours of electricity and achieve over 3.5 billion metric tons of greenhouse gas reductions, equivalent to the annual emissions of more than 750 million cars. In 2018 alone, ENERGY STAR and its partners helped Americans avoid $35 billion in energy costs.
Green Globes - https://thegbi.org/green-globes-certification/
Green Building Initiative (GBI) is a nonprofit organization and American National Standards Institute (ANSI) Accredited Standards Developer dedicated to improving building performance and reducing climate impacts. Founded in 2004, the organization is the global provider of the Green Globes® and federal Guiding Principles Compliance certification and assessment programs.
LEED - https://www.usgbc.org/leed
Today people know that if they are in a LEED-certified building they are using less energy and water, avoiding waste, saving on maintenance costs, improving indoor air quality, offering comfort to their occupants, and creating less environmental burden on their community. They also know that they are in a building that enhances health and wellness. Now green building has grown into a trillion-dollar industry, and LEED has become the most widely used green building program in the world.
ISO 14001 - https://www.iso.org/iso-14001-environmental-management.html
ISO 14001 sets out the criteria for an environmental management system and can be certified to. It maps out a framework that a company or organization can follow to set up an effective environmental management system.
ISO 50001 - https://www.iso.org/iso-50001-energy-management.html
ISO 50001 is based on the management system model of continual improvement also used for other well-known standards such as ISO 9001 or ISO 14001. This makes it easier for organizations to integrate energy management into their overall efforts to improve quality and environmental management.
ISO 50001 provides a framework of requirements for organizations to:
Develop a policy for more efficient use of energy
Fix targets and objectives to meet the policy
Use data to better understand and make decisions about energy use
Measure the results
Review how well the policy works, and
Continually improve energy management
MAS - https://www.mascertifiedgreen.com
MAS Certified Green® and the green leaf logo are registered trademarks of Materials Analytical Services, LLC (MAS), created so consumers can readily identify interior construction products, furniture, and furnishings designed and manufactured to reduce chemical emissions to the indoor environment.
The Green Grid - https://www.thegreengrid.org
The Green Grid works globally to create tools, provide technical expertise, and advocate for the optimization of energy and resource efficiency of Data Center ecosystems which enables a low carbon economy.
United Nations Sustainable Development Goals (SDG) – https://sdgs.un.org/goals/goal6
Ensure availability and sustainable management of water and sanitation for all
What should I look for in a sustainable Data Center?
Goals of a green building address the following seven areas:
Life cycle assessment
Siting and structure design efficiency
Energy efficiency
Water efficiency
Materials efficiency
Indoor environmental quality enhancement
Operations and maintenance optimization
Waste reduction
A viable sustainability strategy starts with the data center's platform, architecture, and management, designed, constructed, and operated. Some data centers utilize modular technology instead of raised floors as this approach can be more efficient in design and operation. Some organizations look for ways to minimize CO2 emissions at their site and throughout their business, while others look to get energy from renewable sources. However, the bottom line is that a sustainable data center provider must operate efficiently as most of its costs are on energy. This energy requires carbon emissions at the power plant and is, therefore, the source of the most considerable environmental impact for those in our industry. Improving energy efficiency reduces one of the most extensive costs and one of the largest sources of emissions simultaneously.
Reduce Data Center Waste
It takes many components to run a data center, from cables and sensors to IT hardware and cooling units that need to be refreshed regularly. And to address the total sustainability of data centers, it's crucial to minimize the amount of toxic-laden electronics that end up in landfills. To address this issue, this requires an understanding of the daily inflow of materials and outbound flow of goods and services compared with the subsequent material that is reclaimed, repurposed, recycled, or disposed of as waste. A sustainable data center also looks to eliminate the use of hazardous, scarce, or challenging to create materials altogether.
*10 Supermicro said optimized hardware refresh cycles would reduce e-waste by more than 80% and achieve 15% better performance while lowering acquisition costs by 44% – potentially reducing annual capital savings by $900k and resulting in e-waste by 12 tons.
Circular thinking is an essential component of the sustainability process, embedding circularity at every stage of the hardware's life cycle, building repairability and recyclability principles into the hardware design process, and rethinking the approach to managing deprecated hardware, including server, rack, and power equipment. By using hardware that is easy to repair and disassemble, we can redeploy and reuse various components of our hardware and systems, giving them a second life.
Consider a multi-site footprint.
A multi-site architecture provides the ability to enable distributed network availability and dynamic load placement. Leveraging DCIM software will help identify workloads that can be transferred from peak demand periods to off-peak hours results in lower costs for data center users, the data center, and utilities. Additionally, various sustainability-focused metrics in the data center, such as energy mix, water scarcity, and public transit availability, should be considered. This consideration will ensure that you can operate sustainably no matter where you use your data center services provider should pursue regional environmental certification standards.
Gain Increased Performance Visibility Through Software
Utilizing data center operating system software (DCIM) to track critical metrics associated with an asset, capacity, and workflow management will help optimize the entire performance of your data center. Because the tools enable visibility into and control energy consumption and capacity, organizations can achieve greater efficiency and energy cost savings. Going a step further, all this data being collected by software tools can be used to improve engineering and operational processes, extend system longevity, enhance security, lower data center energy and maintenance costs, and guide best practices for availability and resiliency. Leveraging DCIM and BMS software as an Integrated Data Center Management platform, your organization can identify areas to improve system efficiencies and open the doors for a continuous improvement process.
Continuous Innovation Is A Priority
Any organization with a vested interest in sustainability will always be looking to reduce, reuse and recycle everything from energy to materials. Efficiency is a crucial component in current and future power distribution, energy recovery, IT, and environmental networks. Sustainable data center operators also require their vendor partners, employees, and customers to operate with the same standards and performance. They look to partner with like-minded companies and customers to co-develop sustainable solutions and meet mutual goals.
What should and can I do to improve sustainability?
*6 Data Center Dynamics gives these 4 points of advice:
Define success for your organization and empower your team to help you achieve it
Set targets no matter how large or small and make small gains wherever possible – 1 percent annually over 25 years will make a significant impact in a global organization
Deploy programs throughout your business and analyze where improvements can be made on a monthly, quarterly, or annual basis
Sustain your results by monitoring, managing, and sharing the lessons learned
Understanding and analyzing data center metrics allows the operator to better view possible inefficiencies by focusing on the core parameters. Metrics also allow architects and operators to measure the performance and effects of changes made to subsystems. Poorly defined metrics will impede business innovation and prevent meeting environmental sustainability goals.  The metrics frequently used in data center management start at the power grid and going all the way up to the service delivery, looking at the core dimensions of data center operations, including energy, efficiency, cooling, greenness, performance, thermal and air management, network, security, storage, and financial impact.
Do you use data center operating system software?  Are you using DCIM and BMS software?  Have you considered a consolidated solution like Integrated Data Center Management (IDCM)?  An IDCM solution bridges the data and intelligence delivered by each. It presents the relevant information to both facilities and data center operators to make jointly informed cooling and power decisions.  Collectively IDCM tracks critical metrics associated with an asset, capacity, and workflow management, allowing both facilities staff and data center operators to optimize your data center facility's entire performance and make it more sustainable. The data being collected by the software can be used to monitor your metrics, improve engineering and operational processes, extend system longevity, enhance security, lower data center energy and maintenance costs, and guide best practices for availability and resiliency.
Technology being leveraged in Green Data Centers
Low-power servers:  Low-power servers are more energy-efficient than conventional servers in data centers. They use the technology of smartphone computing, which tries to balance performance with energy consumption. Dell and Hewlett-Packard introduced the first low-power servers. Low-power servers can be much more efficient than conventional servers when used correctly. They can significantly impact data-center efficiency, decreasing power consumption and the operating cost of cooling facilities.
Modular data centers:  A modular data center is a portable data center that can be placed anywhere data capacity is needed. Compared with traditional data centers, they are designed for rapid deployment, energy efficiency, and high density. These ready-made data centers in a box became very popular. HPE and IBM provide modular data centers with a PUE rating of 1.05 in and free-air cooling.
Free air cooling: Free air-cooling systems use outdoor air instead of traditional data-center computer room air conditioner (CRAC) units.   Although outdoor air still needs to be filtered and moisturized, much less energy is required to cool a data center with this method. Outdoor air temperature is a crucial factor, and the data center's location plays a critical role in this technology.
Hot and cold aisle containment:  In this method, rows of racks are aligned with the servers' backs facing each other; the aisles are enclosed to capture the air. In hot aisle containment, the heat produced by the servers is pumped to the cooling units. In cold aisle containment, cold air is pumped to the enclosed aisles. Both containment methods are more effective than traditional cooling technologies and can reduce energy consumption and impact. Although it may be more challenging to implement, hot aisle containment is more effective than cold aisle containment.
Reusing waste heat:  Data centers use electric power, releasing more than 98 percent of this electricity as heat. The data center's waste heat can be actively reused, and a data center becomes a closed-loop heating system with no waste.
Examples include:
The IBM Reusing Data Center in Switzerland, where the heat warms a local swimming pool
In Finland, the Yandex and Academica data centers replacing the heat used by 500-1,000 homes with data-center energy
Amazon reused heat from a nearby data center for a biosphere project in Seattle
Ultrasonic humidification:  Some humidity is necessary for data centers to work efficiently and prevent damage to devices and servers. Ultrasonic humidification uses ultrasound to create moisture, using 90 percent less energy than conventional methods such as resistance steam humidifiers.
Evaporative cooling:  Evaporative cooling reduces heat by the evaporation of water. Two main methods are used: evaporation pads and high-pressure spray systems. With evaporation pads – the more popular method – air is drawn through the pads, making water evaporate and cooling the air. The other technique, high-pressure spray systems, needs a larger area and consumes more energy with pumps. Evaporative cooling is dependent on geographical location and season because both affect the moisture level of the air. Compared to traditional mechanical cooling systems, evaporative cooling generally uses significantly less electricity.
These are some secondary steps in building and operating a green data center:
Minimizing the footprints of the buildings
The use of low-emission building materials, carpets and paints
Sustainable landscaping
Waste recycling
Installation of catalytic converters on backup generators
The use of alternative energy technologies such as photovoltaics and heat pumps
The use of hybrid or electric company vehicles
What should I look for in a Green Data Center Partner?
Hyperscale data centers, while long the bane of energy consumption, is now leading the green movement.  Over half of organizations (according to Jennifer Cooke of IDC) believe they are better off leveraging a colocation provider to achieve their data center sustainability effort than going it alone. *5 According to 451 research, almost 100 percent of colocation customers have sustainability requirements in their contracts. 50% of those customers say the colocation providers' sustainability practices are critical in their selection process.
8 Tips for Choosing a Green Data Center Partner
For those operating on-premises legacy data centers looking to move into a green data center or organizations already outsourcing to a less than green provider, the following are ten tips for evaluating green data center providers. Check the providers' ESG ratings with organizations such as GRESB, the Carbon Disclosure Project, RE100 and Sustainalytics, and look for documented commitments to 100% renewable energy
Look for innovation in power such as the use of artificial intelligence to forecast power consumption found in many BMS and DCIM software packages that analyze data output, humidity, temperature, and other important statistics for improving efficiency, drive down costs, and reduce total power consumption
Check the EPA ranking to find the data centers leading in green power commitments
Look for zero water cooling solutions powered by 100% renewable wind and solar power
Look for data centers with innovative green power procurement models that allow it purchases renewable energy on parity or below the price of conventionally produced power
Look for innovative, data-driven, service delivery models that tap AI, machine learning and predictive analytics that enable sustainability initiatives that is provided by DCIM software
Look for data center operators that work closely with utilities to develop tariffs and legislation that make it easier and more cost-effective for everyone to procure renewable energy
Look for providers touting on-site physical features such as smart temperature and lighting controls, rainwater reclamation, recycling and waste initiatives, and EV charging stations.
Download a Free IDCM for Dummies eBook
Partnering with
Automated Logic and Nlyte partner together to provide Integrated Data Center Management (IDCM).  Integration of Automated Logic WebCTRL© building automation system with Nlyte DCIM suite helps data center professionals unlock additional energy savings, reduce costs, and improve uptime in their data centers.