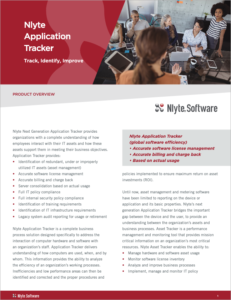 Track, Identify, Improve
Application Tracker is a complete business process solution designed specifically to address the interaction of computer hardware and software with an organization's staff. Application Tracker will give you an understanding of how your computers are used, when and by whom. Using this information, you will be able to analyze the efficiency of your working processes. Inefficiencies and low performance areas can then be identified and corrected and the proper procedures and policies implemented to ensure maximum Return on Investment for your assets.

How Application Tracker Helps You
Manage Hardware and Software Asset Usage
The success of your business is highly dependent on your IT resources and the way they are used. Asset management is just the beginning – it is imperative to manage how your assets are utilized, to fully understand business operations and improve business productivity.
Monitor Software License Inventory
More than just software metering, monitor the software used in your organization, who it is used by and what it is used for. Recognize which applications are required for your business and eliminate non-essential packages and their associated costs. Creating software standards throughout an organization reduces license, support and training costs.
Review Business Processes
By understanding what hardware and software is used, when it is used, for how long and by whom, you will have a good understanding of how efficiently your staff is operating and if your technology is being used to its optimum level. Application Tracker web-based reports provide you with the knowledge needed to understand how your business is functioning. The reports identify inefficiencies or low productivity of assets, and help put the required policies and training in place to increase both efficiency and productivity.
Implement, Manage and Monitor IT Policy
Increase your staff's awareness of IT policy and ensure compliance. Good IT policy management increases data security, improves IT efficiency, decreases bandwidth requirements of your computer networks and reduces the threat of legal exposure through harassment or security claims.