What is IDCM: Integrated Data Center Management?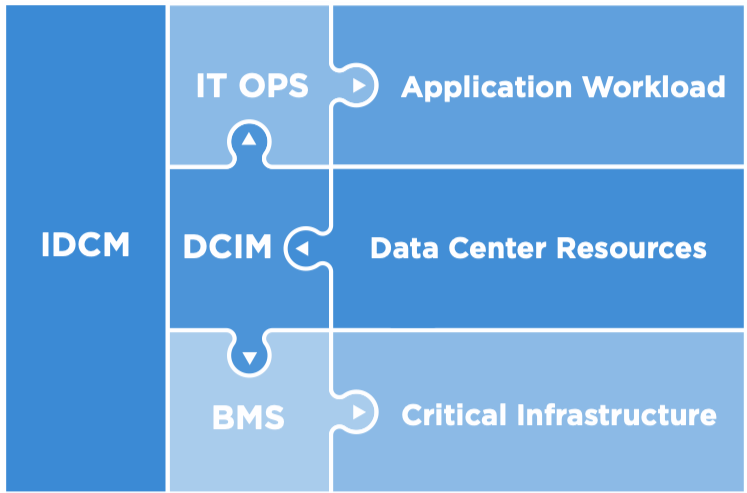 IDCM is the integration between Building Management Systems (BMS) also referred to as Building Automation Systems (BAS), DCIM solutions and IT operations. It is a deep integration between data center critical facilities infrastructure, the resources (e.g. servers, switches, assets, etc.) within the data center and the application workloads running there.
The vision of IDCM is much more than that description captures.
Ultimately, the vision of IDCM is focused on integrating and providing transparency between all the elements, assets, layers, and devices in and around the data center. This way all components and systems can be managed with awareness and insight into how those elements affect the efficiency and service levels of the application workloads being supported.
Through this deeper integration, better decisions can be made about maintenance, operations, and critical events that occur in the data center. It provides complete visibility of where servers are running, and what devices, systems, and critical infrastructure support those workloads. With this data, organizations can perform better capacity management, increase the efficiency of existing resources, and perform more streamlined workflows, and operations across all layers of the IT stack.
What is driving the need for Integrated Data Center Management?
Data centers have never been more vital or central to business operation, yet they need to be more efficient, resilient, and flexible. A key to achieving these goals is by tightly integrating the critical infrastructure (power, cooling, security, access control, and the building itself) with IT equipment and the applications themselves. Data centers are unlike other building types in that they are significantly and dynamically influenced by the behavior of the applications running within them. IDCM integrates numerous systems, from buildings to virtualization, to provide greater efficiency, streamline management, and improve insight across these previously disparate systems.
What key indicators identify the need for IDCM?
Lack of visibility and management of computing fabric
Lack of end-to-end capacity management
No integration between building and IT infrastructure
Lack of end-to-end automation
Unable to optimally scale critical infrastructure and IT
Here are some questions to assess if an IDCM solution implementation is needed:
Does your critical infrastructure support your application needs?
Does maintenance of the critical infrastructure impair workload availability?
Do you know what workloads and assets are affected by your power and cooling chains?
Would fewer workload disruptions from planned maintenance benefit your business?
Do your BMS/BAS and DCIM solutions synergistically manage your hybrid infrastructure?
If you could identify anomalies in how your data center devices were performing, how would that benefit you and your team?
Would automated workflows based on security breaches and noncompliant device installations reduce risk and loss?
Would automated workflows based on power and cooling chain anomalies improve remediation and reduce business outages?
What is the value of the IDCM to an organization?
IDCM tightly integrates the different systems within a data center in new and unique ways for improved capacity management, reduced costs, and improved uptime.  IDCM provides improved insight and better control of the entire data center delivering Better capacity management, reduced costs and improved energy utilization, and improved uptime.  An organization who has implemented an IDCM solution will see:
Increased efficiency of power, cooling, and space by allowing critical infrastructure to reflect application behavior, such as idle periods or reduced loads
Improved effectiveness of facility and IT personnel as changes or maintenance can be pinpointed, with known effects throughout the computing environment
Reduced risk of outages or breaches due to poor capacity or asset management processes
Improved uptime and efficiency by simulating critical infrastructure in software for planning, operations optimization, and failure scenarios
What are the main use cases of IDCM?
The primary use cases of IDCM are centered around the 3 key benefits organizations see:
Better capacity management
Workload visibility
Hybrid asset management
Affected assets/customers for power
Affected assets/customers for cooling
Reduced costs and improved energy utilization
Cooling chain mapping
Colocation support
Full stack energy prediction and optimization
Improved uptime
Power anomaly workflow
Security issue workflow
Map specific event to cooling chain
Device anomalies and multi-variate use cases
Multi-variant analytics
Who benefits the most from the integration of data center management tools?
The two primary beneficiaries of IDCM are the Directors of IT Operations and Critical Facilities.  In a sense, IT Ops is the customer of Critical Facilities.  ITOps creates the demand for power, cooling, lighting, and security, while facilities provide these services.
The Director of Operations focuses on delivering uninterrupted service and data to their customers (the business).  In their world they need to:
have SLAs informing customers regarding the loss of redundancy when there is an unplanned outage of critical facilities such as a chiller or a UPS
need to generate reports tailored to customers' specific requirements or needs
need tools to provide visibility of impending equipment failure and confidence it is accurate
be able to tie facility maintenance seamlessly into the data center and ITSM workflows
The Director of Critical Facilities needs in-site into the data center's operations beyond room level environmental and power distribution equipment.  To handle his business and deliver reliable service to the data center, they need to:
accurately determine the cost of powering and cooling within the data center today, by business group and by application
calculate the cost per IT workload running in the data center
calculate the real-time and historical power and cooling loads of individual racks in the data center
know how changes to the way servers are being used affect the power and cooling load
determine the impact of IT usage on your critical infrastructure and costs while reducing staff hours on manual inspections and calculations
understand which workloads will be affected by upcoming maintenance