Nlyte Energy Optimizer (NEO) | Activity Log report
Published on May 12, 2023,
by
The Nlyte Energy Optimizer (NEO) Activity Log report is a critical tool for data center management, providing a comprehensive record of all changes and actions taken within the data center environment, offering several advantages:
Accountability: This report provides a clear record of who made what changes to each piece of equipment. This accountability makes it easier to identify mistakes, rectify them, and prevent them from occurring again in the future.
Accuracy: By documenting all changes as they occur, the Activity Log report ensures the accuracy of the data center's configuration records. This is crucial for maintaining a reliable data center operation and for auditing purposes.
Audit Trail: The Activity Log report provides a detailed audit trail, which is invaluable for troubleshooting, forensic investigations, and for demonstrating regulatory compliance.
Operational Efficiency: With clear records of what changes have been made and by whom, data center managers can better manage their teams, identify areas for improvement, and streamline their operations. This can lead to greater operational efficiency and productivity.
Change Management: In a dynamic environment like a data center, changes are constant. The Activity Log report provides a detailed record of these changes, helping to manage them effectively and reduce the risk of downtime caused by improper changes.
Security: This report can also serve as a security tool, highlighting any unauthorized or suspicious activity. This allows for quick detection and response to potential security threats.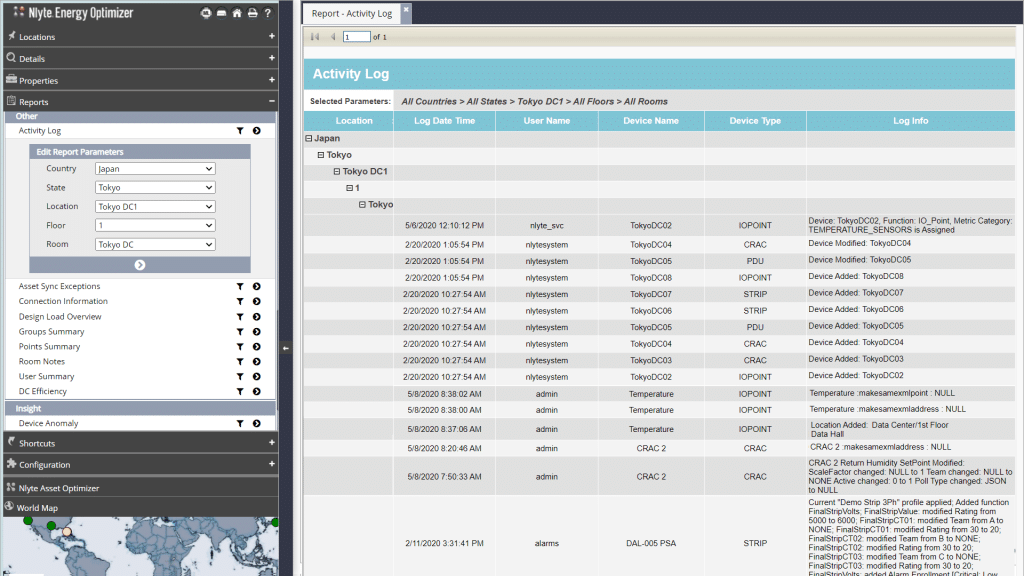 The NEO Activity Log report is an essential tool for enhancing accuracy, accountability, and security in data center operations. It can provide an essential foundation for effective change management, operational efficiency, and compliance.
Learn more about Nlyte Energy Optimizer
Nlyte Energy Optimizer Data Sheet