What is Branch Circuit Monitoring and How Does It Impact Power Usage Effectiveness?
Published on January 13, 2021,
by
What is Branch Circuit Monitoring?
Branch Circuit Monitoring enables users to track power usage effectiveness (PUE) from a central location. This includes all the way down to the level of the individual branch circuit, and all the way up to the utility meter. It covers both IT and facilities equipment.
Branch Circuit Monitoring is important for several reasons:
1) Capacity Planning
Branch Circuit Monitoring allows the data center manager to track total load vs. available capacity in real time, for each individual cabinet. This information helps with capacity planning and allows for greater operational efficiency and energy savings and can be shared with the BMS.
2) Load Balancing
Monitoring real-time loads across the A & B sides of panels guards against cascading failure.
3) Risk Reduction
Alarms at the Branch Circuit level alert users if a pre-established threshold or breaker limit is near. This allows managers to make changes to avoid overload and downtime.
4) Accurate Billing
This level of granularity enables Colocation providers or enterprise data centers to track in real-time the power usage by individual tenants and departments for accurate billing and charge-back.
Visibility into the entire facility's energy demands, down to individual systems, enables users to reduce risk, plan for capacity needs, bill accurately, detect inefficiencies, and make changes to optimize energy usage, improve power quality, and improve continuity of service, and reduce energy costs.
Intelligent Power Strips (IPDUs) are not the same as Branch Circuit Monitoring
While Intelligent or monitored power strips provide an excellent visual indication of power draw on a given rack, they fall short of accurate power management and risk mitigation efforts.  Several factors weigh against the added expense of introducing IPDUs.  If the IPDUs was not installed at the rack manufacture or at the time of provisioning, accessing an in-duty rack to retrofit is not practical.  Another challenge is they only represent one side of a rack's power draw and not the typical 2N configuration.  Without additional monitoring software, you cannot accurately calculate the total power draw and identify overload conditions.  Without software, you cannot aggregate the cumulative results and historical trend, which is of great value in energy management across the data center.
Then there is the cost to consider.  Here is a comparison of the expenses between retrofitting for branch circuit monitoring and implementing intelligent power strips.  IPDUs are over twice the cost of branch circuit monitoring for far less benefit.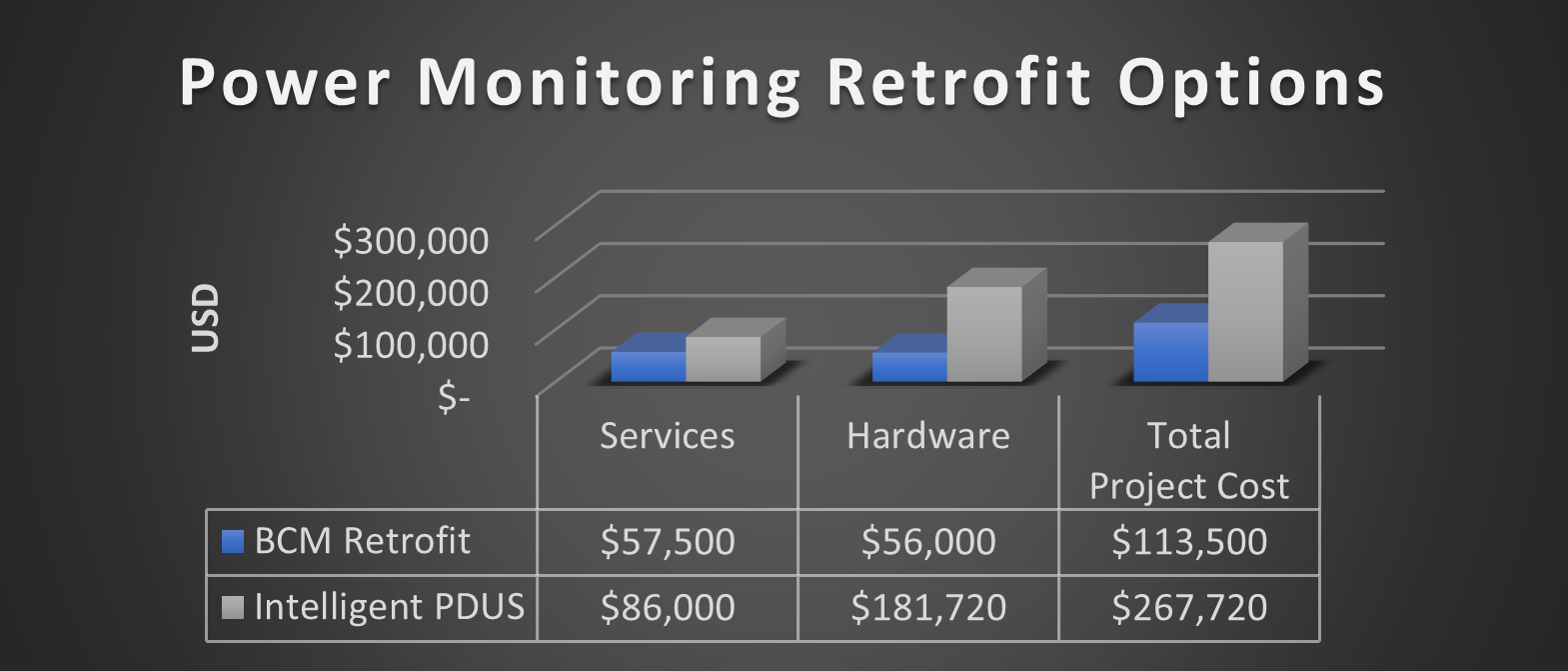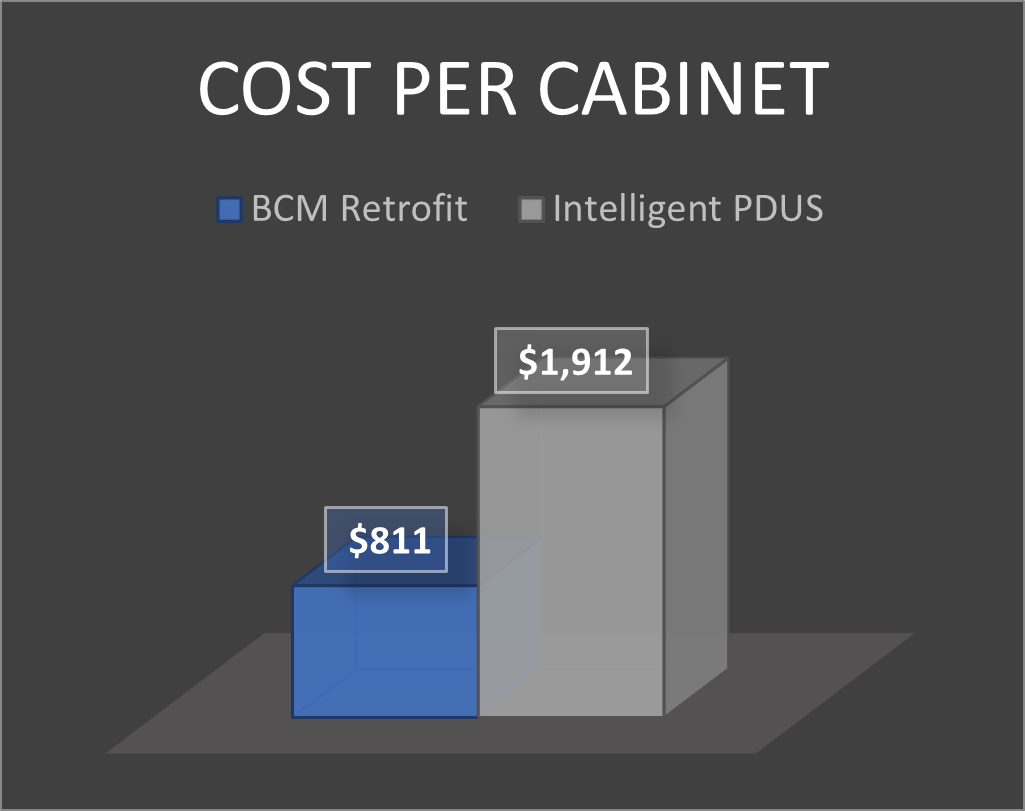 Next Generation DCIM software provides the ability to monitor and aggregate IPDUs data, set alarms for 2N overload conditions, and provide strip level status.  However, these NextGen DCIM solutions can monitor both the Branch Circuits and power control sensors in servers, storage units, and other powered systems.  These DCIM solutions provide a more holistic view of energy consumption, power draw, trend analysis, and capacity planning across the entire facility and down to the individual application workload.
BCM as part of an Integrated Data Center Management System (IDCM)
Branch circuit monitoring is an essential tool for guaranteeing that power is distributed continuously and reliably in data centers. It makes it possible to centrally record measurement data at clearly defined hubs at the circuit, phase, and all distribution and plug-in levels and perform a consolidated analysis of this data. This integrated approach gives data center and facility managers a complete overview of all circuits and consumption.  With this data shared across DCIM, BMS, and ITSM systems, there is a reliable database to determine the PUE (Power Usage Effectiveness) values, optimize load distribution and energy while improving cost efficiency across the data center and entire facility.
5 Best Practice for Power Monitoring in the Data Center
Think Flexibility – Most likely, there are several different power distribution types (e.g., PDUs, Panel Boards, Busway, etc.) across your data center(s). Also, various vendors will supply these products (e.g., Schneider Electric, Siemens, Eaton, GE, etc.).  Your Power Monitoring solution needs to interact with the full spectrum of power distribution types, vendors, and protocols, as well as various amperage sizes and circuit configurations.
Stay Adaptable – Many data centers leverage busway power because of the adaptable power distribution system it provides. PDUs and panelboards are also frequently changed and modified to support the dynamic data center environment. Ensure that your power monitoring products can adapt when the power shifts to avoid re-building or replacing the existing meters.
Achieve Utility Grade Accuracy – The best practice in power monitoring is to attain utility-grade accuracy within one percent of the actual amount of power consumed. A utility-grade level of accuracy enables co-located and other data centers to rebill clients for energy costs fairly.
Expect Non-standard Protocols – Data centers use multiple communications protocols (SNMP, Modbus TCP, Bacnet IP, and other proprietary ones). If the power monitoring meters don't utilize standard communication protocols, it will be more time-consuming and costly to integrate the meters with older DCIM or BMS systems. The best way to avoid this problem is to ensure that any metering system you purchase has the RIGHT communications protocols for the software system you plan to utilize. Ideally, your metering platform should be able to support all your power distribution products, communicate simply to the software, and interact seamlessly with all of the other components of the data center.
Look for Greater Device Functionality:Typical monitoring solutions require a complicated and costly network of protocol conversions, middleware, and data interpretations to provide the operations and engineering teams with a comprehensive picture of power consumption in the facility. Features such as onboard Ethernet, onboard data logging, onboard alarming, and an accessible web interface can reduce the failure points and cost associated with a monitoring deployment.
Power monitoring systems in the data center can be a powerful tool to help achieve the facility's overall initiatives. Selecting the right power monitoring system for your facility's current and future needs is an integral part of the selection process. Implementation and integration of the power monitoring system are steps that can be easily overlooked. Still, they play a significant role in the facility's effectiveness and the DCIM or BMS systems they complement. Flexibility, adaptability, accuracy, communications, and device functionality are essential characteristics of a successful power monitoring system.