Nlyte Asset Synchronization Solutions: A New Era in Data Center Management
Published on May 13, 2023,
by
In an increasingly digitalized world, robust data center management is crucial for business operations. But how can organizations ensure their data center assets are optimally managed and synchronized? Enter Nlyte Asset Synchronization solutions for data center infrastructure management (DCIM).
What are Nlyte Asset Synchronization?
Nlyte Asset Synchronization solutions allow data center managers to integrate and synchronize data from disparate sources into a single, comprehensive platform. This holistic approach eliminates redundancies, improves efficiency, and facilitates informed decision-making.
Bi-directional Synchronization: ServiceNow CMDB Integration
One of the key advantages of Nlyte Asset Synchronization is its bi-directional synchronization capability with the ServiceNow Configuration Management Database (CMDB). This feature allows for seamless integration and synchronization of Configuration Item (CI)/asset attribute data between the Nlyte Central Repository and ServiceNow CMDB.
The bi-directional synchronization ensures accuracy, improved visibility, better compliance, and risk management, leading to enhanced productivity and efficiency. It's a game-changer, creating a unified platform for comprehensive and reliable data center management.

Learn more about
Nlyte for Virtualization: Bridging the Physical and Virtual
In the era of virtualization, Nlyte goes a step further by connecting the virtual to the physical. It automatically discovers and monitors each hypervisor's virtual machines, providing a single view across all physical and virtual devices.
Changes in application relationships are automatically updated for each hypervisor in Nlyte, ensuring that you're always up-to-date with the latest changes in your virtual environment. This comprehensive view across physical and virtual devices not only simplifies management but also helps in capacity planning and risk mitigation.

Learn more about
Nlyte Audit: Enhancing Data Accuracy
Nlyte takes data accuracy to the next level with the Nlyte Audit module. This feature reduces the time to install equipment by capturing changes and improving data accuracy at the location of the change.
Built with insights gleaned from thousands of auditing man-hours experience, the Nlyte Audit module allows users to use any combination of handheld barcode scanner with a tablet to scan an asset tag, confirm its information, or add it to the Nlyte Content Database. This real-time auditing and updating feature significantly enhance data accuracy and ensures your data center information is always current.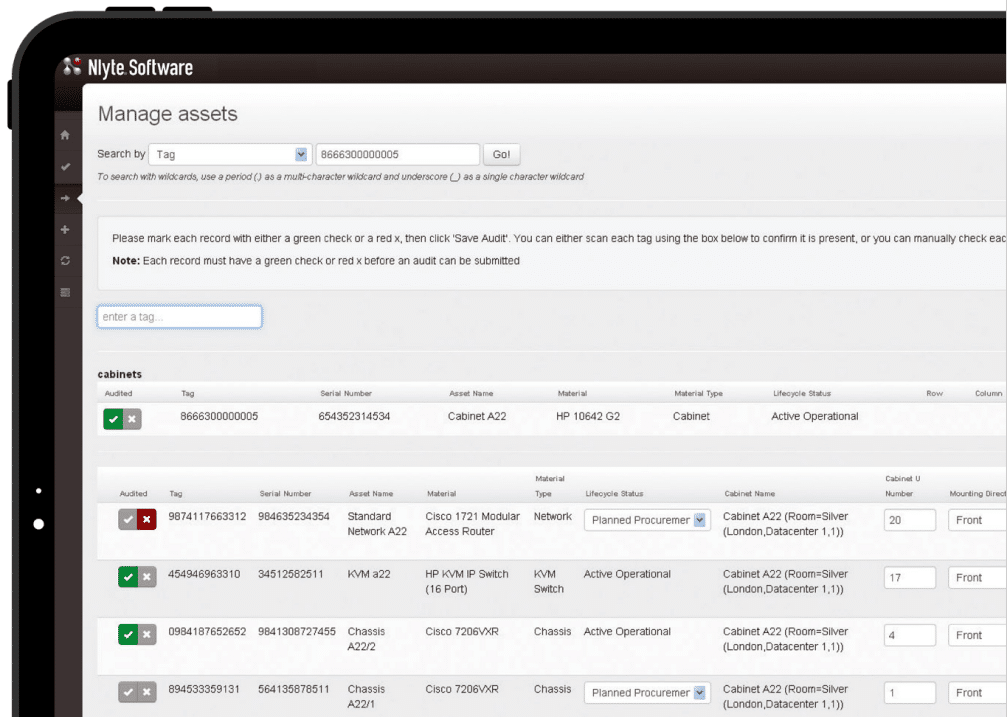 Learn more about
Nlyte Asset Synchronization is not just a tool, it's a comprehensive set of solutions designed to transform the way you manage your data center assets. From bi-directional synchronization and virtualization to real-time auditing, Nlyte leverages cutting-edge technology to deliver superior data center management.
So, are you ready to take your data center management to the next level? Embrace the future of data center management with Nlyte Asset Synchronization solutions.
Additional Resources